As a small business owner, investing in your search engine optimisation (SEO) plan will offer an amazing return on investment.
But when it comes to small business SEO, knowing where to start can make your head spin.
Don't stress!
Because we've put together a collection of 50 practical traffic-boosting small business SEO tips that you can implement today.
By focusing on the right tactics, you will boost your business's search engine rankings for specific search terms or phrases in your niche.
Increasing your website's traffic and boosting your sales in the process.
By the way!
If you don't have the time to implement the small business SEO tips below, you can always reach out and get the help of an SEO Expert. 😉
Technical SEO tips
First, we look at a selection of technical SEO ranking factors to improve your website's performance and 'crawlability'.
1) Improve your loading speed
When it comes to improving your small business SEO rankings, website loading speed matters. In fact, 53% of visitors will leave your website if it takes longer than three seconds to load.
Slow loading speeds hinder your website's usability while having a negative impact on your search engine rankings. Test your loading speed and if it exceeds 2 seconds, try to delete any redundant content, you could also ask your web developer or technical support to remove or update any code or plugins from the backend to improve performance.
2) Make it mobile-friendly
If your website or landing pages aren't optimised for mobile devices, your search engine rankings will fall through the floor. Test your web pages for mobile devices and if you encounter any issues, work closely with your web developer to fix them.
3) Create an XML sitemap
XML sitemaps make it easier for the likes of Google to crawl all your web pages. As a result, you will stand a greater chance of being indexed and ranked for the right search terms.
You don't have to be a technical wiz to create an XML sitemap these days—you can use a generator to help you with your efforts, before submitting it to Google Search Console and other search engines.
4) Perform monthly audits
To boost organic traffic through technical SEO, fixing any website errors is essential. By performing bi-weekly or monthly audits, you'll be able to nip any issues in the bud and maintain solid search rankings.
The good news is, there are plenty of easy to use SEO audit tools to choose from. Effective SEO audits can prove time-consuming and require specialist skills and expertise. As an experienced SEO agency, here at Bubblegum Search we can take care of your regular audits, saving you time and stress while keeping on top of all your activities.
5) Optimise your internal links
Comb through your website and check every internal link, fixing any that are broken while updating weak anchor text with more relevant, descriptive keywords or phrases. Doing so will boost your technical SEO.
7) Update your image alt text
Your alt text is the behind-the-scenes descriptive copy or words attached to every image on your website. Go through all of your website images, updating the alt text so it is as descriptive and relevant as possible.
8) Use canonical URLs
The likes of Google don't like duplicate content—in fact, you can get penalised for it. To avoid such SEO-harming issues, if you have duplicate content that you cannot remove from your site, use canonical URLs to tell search engine bots which one to crawl.
This particular SEO technique is especially effective if you run an eCommerce site with lots of query string product pages. For example, you might have a high traffic product page on your website which also comes in a range of colours. These colour filters might create new query string URLs, causing duplicate pages.
In this case, you can use a self referring canonical URL to the clean URL to tell search engines which version to index and avoid being penalised.
9) Optimise your metadata
Metadata matters. By optimising your meta titles and descriptions, you stand to boost your organic search rankings for relevant keywords. To win with your metadata, you should keep your titles to 60 characters or under and your descriptions between 140 and 150 characters. You should aim to weave your primary keyword naturally into your title and your description. And, both your title tag and meta description should be compelling to increase Click Through Rate (CTR) while summarising the subject matter of your webpage.
10) Fix 404 crawl errors
404 crawl errors occur when a web page has been removed or migrated to another URL—and they're common.
While you may do this as part of your weekly SEO audits, checking for and fixing 404 crawl errors frequently using Google Search Console will ensure only quality pages are indexed.
11) Optimise your URLs
Optimising your URLs will provide a small boost to your SEO rankings. To do so, it's important to add your most valuable keywords to your URL descriptions.
You can do this through the HTML file, or if you're using a CMS to run your website (like Wix or WordPress), you can make changes in the page editor.
Here is a good and bad URL example based on 'wedding photography services in Hull' for your reference:
Bad:
www.magiceyephotographyservices.com/wedding-1
Good:
www.magiceyephotographyservices.com/wedding-photography-services-Hull
12) Try Schema
Schema is recognised by Google, Yahoo!, Bing, and Yandex. Adding Schema markup to your website will make it easier for search engines to better understand your page elements, making it more favourable to these search engines as a result.
Schema markups will also increase the chances of your content earning rich snippets, which will make your SERPS entries more informational appealing, increasing CTR.
'FAQ Schemas' as well as 'Review Schemas' are effective for SEO and you can find out all you need to get started at Schema.org.
On-page SEO tips
In the digital age, content counts—especially when it comes to SEO for your small business. Here are the organic on-page search engine optimisation tips that will help improve your rankings and drive more traffic to your website pages:
13) Content keyword optimisation
When you're writing content for your web pages, it's important that you naturally include a relevant keyword term or phrase (preferably a primary term and a secondary term) in your content throughout.
But, make sure you do this sparingly and as naturally as possible to ensure your content is valuable and reads well. Google's Keyword Planner Tool or free platforms like Ubersuggest are great for sourcing the right keywords for your content.
14) Get your H1 headlines right
Your headlines—also referred to as your <H1>—is an essential small business SEO ranking factor. To win with your headlines and drive more traffic to your website, make sure your main keyword features naturally in your headline and that it's accurate, informational, and compelling.
15) Follow the E-A-T framework
Your content has a significant impact on your organic search rankings. When it comes to boosting your search rankings and encouraging web traffic, your page content needs to be engaging, informative, and conversational. That said, you should follow the E-A-T framework:
Expertise
Authoritative
Trustworthy
If your on-page content offers all of these elements, you will boost your SEO rankings. Google's latest algorithm focuses on the quality of content and by following the EAT framework, you will improve copy for search.
For more information, read Google's Quality Raters Guidelines for tips on creating better ranking content. Adding author bios to your editorial blog posts or articles and publishing high-quality user-generated content will also help to enrich your on-page content.
16) Try brand storytelling
Expanding on our previous point, to improve your small business SEO with your content, you should focus brand storytelling when producing copy for any page on your website.
Inspire prospective customers by telling them a tale. Humans respond to narratives (search engine crawl bots do too), so give your on-page web copy a clear beginning, middle and end.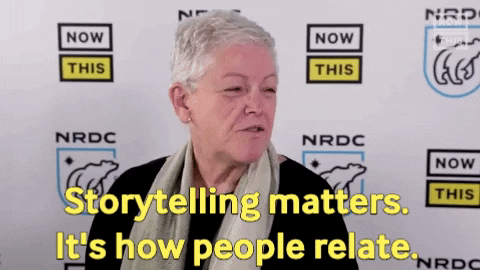 Your 'About Us' page, for example, is one of your prime opportunities to tell site visitors a compelling tale that showcases your brand values, offers an insight into your company culture, and builds a sense of trust. Adding personal team bios and linking to credible LinkedIn profiles is another effective brand storytelling idea. And, as long as you're honest as well as transparent, you can be as creative as you wish.
17) Optimise your additional header tags
Naturally, your on-page content will have titles, subtitles, and subsections.
By using the header tags <H1> to <H6> (using a hierarchy, with <H1> being your main title, <H2> being your main section subtitle, and so on), naturally include your primary and secondary keywords into all <H> tags while bolding the font.
Not only will this make your copy more digestible to the reader but it will also make it easier for search engines to better understand the relevancy of your content..
18) Avoid 'keyword cannibalisation'
If you target the same main or primary keyword across multiple web pages, you will hinder your small business's SEO rankings—this is called 'keyword cannibalisation'. So, make sure you target different keywords across all of your webpages to avoid issues while improving your search visibility.
19) Add an FAQ page
Creating an FAQ page for your website will offer your audience rich, value-driven information while boosting your organic search authority.
Developing a section dedicated to answering common consumer questions will enhance your website with rich content that will improve the user experience, keeping them engaged for longer. And remember—you can add an FAQ Schema to enrich your content and earn rich snippets.
20) Get blogging
By starting up a blog, you will give your business a valuable outlet for publishing inspiring, relevant, and authoritative content in your niche.
Doing so on a regular basis will help you rank well for a larger volume of long tail keywords while targeting your audience at the all-important awareness stage of the buying cycle.
21) Local SEO
Local SEO is the concept of optimising a website or page to appear in Google's 3-pack map listings to increase traffic, leads, and brand awareness from local or regional searches.
Typical local SEO methods include sourcing local or regionally targeted keywords, optimising a brand's Google My Business profile, and building "NAP" citations.
Taking a local approach to your on-page content will also boost your odds of appearing in the local organic search results.
For practical tips and guidance, check out this definitive guide to local SEO.
22) Add social proof
Social proof refers to customer ratings, reviews, and testimonials. In the digital age, consumers trust the opinions of their peers above all else.
By adding genuine customer reviews and testimonials to relevant webpages as well as third-party trust badges (Feefo, Yelp, etc.), you will attract traffic and improve your search engine authority.
23) Call to Action (CTA)
You should aim to conclude every webpage with a powerful CTA. This will help your visitors navigate your website better, improving your conversion rate in the process.
When it comes to CTAs, you should be as strategic as possible.
Ultimately, you should tell people what to do next or inspire positive action (sign up, buy now, learn more, book consultation etc.).
Placing your CTA messaging in a logical position to your main page copy, being as brief as possible, and using responsive call to action buttons will help inspire users to click-though and engage.
Off-Page SEO tips
Next, we move into off-page SEO—the things you can do to build trust signals, build brand authority, and boost your off-site reputation:
24) Create videos
On average, a piece of branded video content is worth 1.8 million words per minute. Set up a YouTube channel, produce engaging video content that offers value to your target audience, and you will boost your branded searches while driving referral traffic.
Also, as it's possible to share video content via social media or embed them in content such as blog posts, videos offer incredible value when it comes to boosting your engagement metrics, which in turn helps your SEO rankings!
25) Inbound links
Link-building is a huge SEO-ranking factor. Keep creating content that high-authority sites will want to link to while creating & implementing a solid link-building strategy. Doing so will expand your brand reach while boosting your SEO rankings over time.
If you need help with your link building strategy, our professional link-building service covers a broad range of SEO-boosting tactics including website prospecting, blogger outreach, and Digital PR. Our complete service will earn you the trusted backlinks needed to increase brand exposure and your domain authority.
26) Guest posting
Guest blog posting is an effective small business SEO tool. Build relationships with relevant industry publications and you will be able to produce authoritative, value-driven content that will improve your link-building profile while cementing consumer trust, and drive traffic to your website.
27) Get social
There are 3.6 billion active social media users worldwide. By creating content and posts across platforms when your audience is most likely to be engaged, you will supercharge your brand awareness while sending positive trust signals to search engines via brand mentions, branded search queries, and social shares..
28) Engage in forums
By engaging in discussions and offering advice or providing valuable content in forums like Quora or similar sites in your niche, you will spark engagement, drive referral traffic to your website, and create more brand signals that will ultimately help boost your search rankings. So, get commenting.
29) Work with influencers
Influencer marketing is a powerful brand building tactic that will help drive valuable traffic to your site.
Nurture relationships with social media influencers in your industry, work together on campaigns, and you will expose your brand to a whole new audience.
By leveraging the expansive and engaged following of relevant social media influencers, you will build a wealth of positive brand signals and increase your referral traffic—a real win-win.
30) Add Social Media Share Buttons & Allow Comments
Social sharing and social proof are excellent SEO-boosting trust signals. Add well-placed social media sharing buttons to your web pages and blog content to encourage users to share your content with their audience across social channels.
User experience (UX)-boosting SEO tips
When it comes to your small business's organic SEO rankings, offering a flawless level of user experience (UX) is vital as it boosts engagement and improves your audience's perception of your brand, which in turn, will increase your authority with search engines. Here's how:
31) Improve your microcopy
Microcopy refers to the small elements of text that guide users through your webpages. These include cursor text, small text snippets, and navigational information.
By making this copy concise, fluid, and conversational, you will enhance the navigation of your website while boosting engagement, improving your SEO results in the process.
32) Optimise your design
Webpage design and UX go hand in hand. Make sure your website isn't too crowded with information, easy to navigate, and digestible. This guide to website design principles will help you make the kind of improvements that will power up your organic SEO rankings.
33) Examine Dwell Time and Bounce Rate
Dwell Time refers to how long a Google searcher spends on your webpage before returning to the SERPS results. Bounce rate is a metric that measures the percentage of users that visit a particular webpage without visiting any other pages.
By analysing these essential UX-centric metrics, you will be able to understand why people aren't engaging with a web page and take targeted measures to fix the issue.
34) Look at your Core Web Vitals
Another essential UX metric, Core Web Vitals are factors that relate to the overall user experience of your website. These factors are based on page speed, user interaction measurements.
By drilling down into each metric shown within your Google Search Console account and taking steps to improve to your overall page experience score, you will improve the usability of your website, improving engagement as a result.
35) Analyse, analyse, analyse
To optimise your website's UX offerings and increase your click-through rates (CTR), from mobile optimisation to messaging and navigation, investing in SEO analysis tools and techniques will help you understand what needs improvement and why.
Tools including heat mapping and page analysers are incredible effective when it comes to getting to the root of the issue—and you can find out more about them by reading our on-page SEO analysis guide.
Small Business SEO: Bonus Tips
Now that we've covered the most essential advice, here are 15 useful small business SEO bonus tips that will help you get ahead of the competition:
36) Utilise the Fetch & Render function in Google Search Console to see how search engines perceive your webpages.
37) Add your business to as many trusted (and relevant) listings and directories as possible.
38) Make sure your Name, Address and Phone number (NAP) format is consistent across all of your webpages and any citations.
39) Install Google Analytics to gain invaluable insights into your customers and general website performance.
40) Install Google Tag Manager (GTM) to help optimise your business's SEO strategy.
41) Use demographic data to better understand your audience and customers on a deeper level to help create communications that offer more personal value and drives conversions.
42) Make sure all of your content and communications are completely honest and transparent. This will build trust, boost brand awareness, and enhance your SEO authority.
43) Establish a consistent brand tone of voice and create a style guide to set your content apart from the competition and improve your brand authority.
44) Use dedicated SEO plugins and tools to ensure all of your page content is completely optimised. Yoast for WordPress is an excellent SEO plugin offering important data and guidance, making it easier to implement and optimise your on-page SEO and metadata.
45) Launch polls and competitions via social media to encourage brand reach and improve your SEO profile.
46) Update existing content, checking for any out of data information or statistics while adding new insights and checking for any outdated links. Doing so will give your page rankings a healthy lift.
47) Use marketing power words to enhance your content and trigger positive user actions. Action-based words can help to make your meta titles and CTA buttons more clickable and ultimately, increase your traffic and conversion rates.
48) Use 'Search Intent' data to understand the main goal a visitor has following their search query, using your discoveries to develop comprehensive content that offers direct value and covers all the relevant topics and questions.
49) Explore your Organic Click-Through Rate (CTR) data, found within Google Search Console to understand what pages and keywords are getting high impressions, but low number of clicks. You can then better optimise your title tag & meta description, for better CTR, rankings and increased engagement
50) Look at 'Pogo sticking' data ( Google Analytics: Time on Page, is a good metic ) to understand how happy or satisfied searchers are with top ranked SERPs results. By understanding how much people are 'Pogo Sticking' for top-ranked pages, you can take strategic measures to improve your copy and keep visitors on page for longer and stop them from leaving and returning back to the search results and clicking on your competitors.
This perfect storm of essential small business SEO tips will help to boost your organic search rankings and increase your website traffic. Invest in the tactics that work best for your business and success will be yours for the taking.
If you'd like further help or advice with your search engine optimisation efforts, check out our professional SEO services for small businesses and book a free SEO video review.
Do you have any other Small Business SEO tips or tricks up your sleeve? Please share them with us by leaving a comment.